About Cara
For 24 years, we have been developing software solutions for managers in the security, safety and technical services sectors. Our different products are all autonomous bricks that meet specific functional needs, while being able to interact with each other.
We have made a fundamental choice : all our developments are made in-house in our Parisian office, without any subcontracting. The objective is multiple :
To master the technique
To guarantee an efficient after-sales service
To be reactive
Download our brochure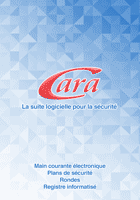 As customer service is essential, we also provide all tailor-made services, training and telephone assistance. More than a simple "hotline", we consider it as a real tool to support our customers in order to satisfy their real needs.
Through this site, you will discover our entire offer. We would like to thank the many security departments that have placed their trust in us and use our solutions on a daily basis:
Large industrial groups: automotive, aerospace, food processing, electronics, pharmaceutical and chemical sectors
Local, regional, national and European administrations and institutions
Hospitals, clinics, care facilities
Railway stations and airports
Financial institutions
Historical monuments and exhibition sites
Research centers, schools, university campuses
Sports stadiums, large leisure parks, concert halls
National media, press
Warehouses of large-scale distribution
Hotels
... and hope to arouse your interest in our products. To respect the discretion of our users, we have chosen not to display any logo, brand name or sign on our website, which is open to public consultation. However, we remain open to communicate our references to any person interested in our solutions.
For any request for information, do not hesitate to contact our team.
Call us
from 9:00 am to 12:30 pm and from 2:00 pm to 5:00 pm on working days (Central European Time, UTC+1)
Fax: +33 (1) 55 85 08 75
Meet us
EUROCAP Building - 19, rue de l'université, 93160, Noisy le Grand, France
Location
By car : take the A4 freeway, in the direction of Marne-la-vallée: exit n°8, in the direction of Paris: exit n°9
By subway : RER A line, Noisy-Le-Grand Mont d'Est station
exit Centre Commercial Les Arcades, Gate 14 (near Fnac) cross Boulevard du Levant, 50m to the right towards the cemetery, then turn left and follow the straight line of rue de l'Université until the EUROCAP building at N°19