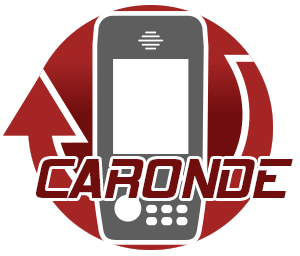 Create your checkpoints and compose your inspection routes
Define anomalies and typical operations, integrate reminders of actions to be taken
Analyse the time spent, the rate of complete rounds, by site, by building, by agent, by period...
Security patrols management
CARONDE is a software whose objective is a management of high-tech safety inspection thanks to :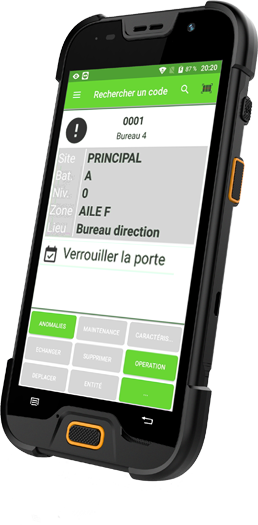 Rugged Android smartphone patrol devices fully equipped: photo sensor, barcode/QR code reader, NFC sensor, hyperconnected: wifi, bluetooth, 4G, GPS (for sensitive sites where, for security reasons, connectivity must remain under control, these functions can be deactivated, the system working perfectly offline)
Points materialized by barcode labels or RFID tags
An easy to use tool to enhance the work of the agents
You can use it for :
Management of anomalies found in the field
Statistics on tour duration, number of points seen, by period, agent, etc...
Interface it with the GEMCEL security logbook by writing the detailed report of each return
Use the same readers for your technical patrols feeding the data of the AGESS security register and thereby optimise your equipment budget
Create all your points, routes and patrols. Define reminders for actions to be carried out on certain checkpoints.
Download the patrol models into the devices; the agents are thus autonomous in carrying them out.
Exploit the data recorded
Edit global or detailed reports :
List of patrols, search by date, type, etc...
Counting of patrols by week, month, year, agent, type, ...
Counting of the number of points seen compared to the theoretical one
Calculation of the duration of the patrols in relation to the estimated theoretical time
Connected to GEMCEL, your software is able to write report lines in the logbook after each tour performed.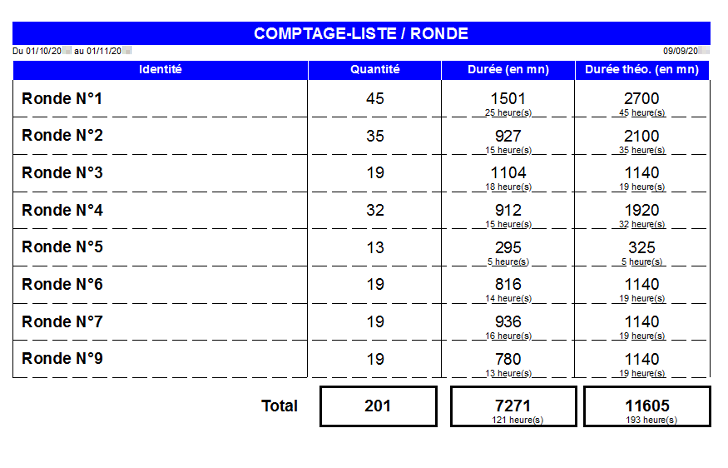 Inspection monitoring globally or individually.
Each return from a patrol can automatically generate an individual report which contains all the information recorded in the device: executor, list of points seen with the date and time of reading for each, list of unread points, anomalies and observations noted, operations entered).
These reports are archived in pdf format and can be consulted by double-clicking on the list of tours executed.
Track any anomalies found during a patrol
Any incident or anomaly observed in the field can be noted in the mobile device, chosen from a pre-recorded list or entered manually by the agent using the virtual keyboard embedded on screen.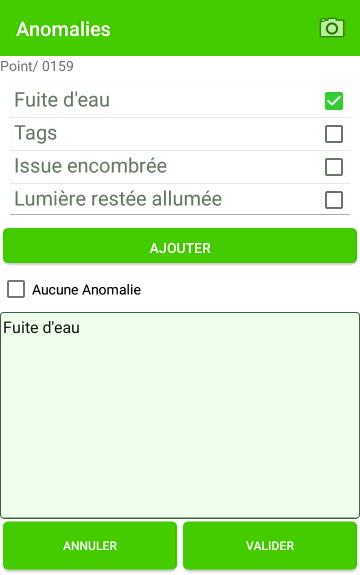 These anomalies will be transferred to the database when the patrols are completed, pending corrective operations, and will be used to generate statistical data (e.g. number of anomalies per round, per building, per month, etc...).
Within the context of the connection with GEMCEL, these events can automatically trigger the launch of an anomaly report in the logbook, keeping it open to be able to enter the measures taken ( e.g. contact with the technical service, securing the surroundings, notifying the hierarchy, etc...), ensuring continuity in your traceability system.
Equipped with a camera, it is possible to associate an anomaly with a photo taken on the spot, which can be consulted in the software.
A multi-functional patrol device
Android-based rugged smartphone
IP68 rated, designed for all environments, including industrial
Large, easy-to-read multi-touch colour screen
3 year warranty including breakage and dedicated CaraPocket mobile application included in the cost of the device
Fully equipped: photo camera, RFID (radio frequency identification) chip sensor, barcode scanner, WiFi, Bluetooth, 4G receiver
Available in ATEX version
To reduce costs, it is also possible to use CARONDE with your own mobile terminals running on Android, as the points can be read with the camera of your device.
NEW: go online with CARONDEWeb
Connect your patrol device to the network (via wifi or 4G mobile network) and open the doors of your safety tours management to new perspectives :
No need to install anything on your computers: centralise your settings in our web application platform and remotely synchronise CaraPocket at the end of each patrol to update your data
Consult the reports of the patrols and the statistics from anywhere, any terminal connected to the network (computer, tablet, smartphone) with your personal identifiers
Locate in real time the security guard on patrol thanks to the supervisor option, whose isolated worker protection function triggers an alert as soon as the set time between 2 checkpoints is exceeded
Latest CARONDE update
In order to take full advantage of the CARONDE's latest features, please ensure that the version you have installed is up-to-date.
Please note: you must install the appropriate patch for your version.
Installing an update for version 11 on a version 10 or lower will not work and may compromise the proper functioning of your software, or even the integrity of your data.
La version du logiciel vous est indiquée au lancement, à l'invite d'identification.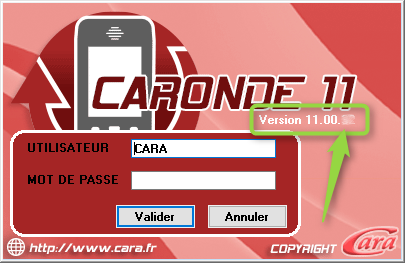 In all cases, we recommend that you make a backup of your data beforehand.
If you need help or information about an older version, please contact us.
CARONDE patch version 11.00.101 released on 30/06/2020 Download